Post by maddogfagin on Mar 3, 2015 19:09:36 GMT
www.thedailymail.net/
Guy Davis bringing traditional blues to Mountaintop
Posted: Friday, February 27, 2015 12:00 am
By Jim Planck
link
TANNERSVILLE — Saturday night, Feb. 28, the Catskill Mountain Foundation's Orpheum theater in Tannersville will resound with the rich-timbred vocals and precision guitar and banjo work of traditional "walking" blues, when award-winning blues artist Guy Davis takes the stage to perform material from his most recent CD, "Juba Dance," and more.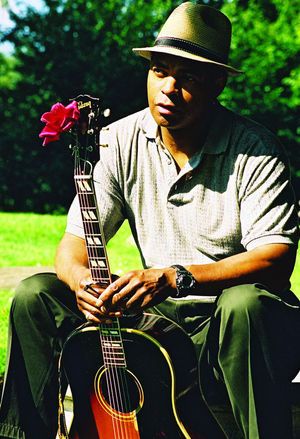 www.guydavis.com/
For those unfamiliar with Davis' expertise in making sure the acoustic sounds of delta and piedmont blues are not lost to the 21st century, a sampling of his material at the "Juba Dance" CD's page on amazon.com or a visit to Youtube is highly recommended, as a quick listen will settle the matter.
Whether it's the foot-tapping blues confession of "Lost Again" or the church-like intensity of Blind Lemon Jefferson's 1927 classic, "See That My Grave Is Kept Clean," Davis delivers everything you could want in a traditional blues artist, and is rightfully being categorized as "a living legend" -- and if you listen to him, you'll see why.
In addition to being a musician, he is also a composer, actor, director, and writer, and has had a career too varied to be encompassed here.
He was also the 1993 winner of the Blues Foundation's "Keeping the Blues Alive Award," and has been nominated nine times over the years for a W. C. Handy Award, whether for Best Acoustic Blues Artist, Best Blues Song, or Best Traditional Blues Album.
He was specifically invited by Jethro Tull founder Ian Anderson — a devotee of the sounds of the early blues artists — to open the band's shows on its 2003 tour.
Davis' last several albums have been produced by guitarist John Platania, of Van Morrison fame, and Platania will be on hand Saturday night to sit in with not only Davis, but with Platania's old Woodstock friend Aaron Hurwitz, better known by his musical name, Professor Louie, who will be there with The Crowmatix to send forth an excellent show of rhythm and blues, rock and roll, and true Band-ish tunes.
The Grammy-nominated and International Hall of Fame inducted Professor Louie & The Crowmatix have enlivened the Orpheum before, and Saturday night will be no exception.
Having a group of this distinction this close — they're out of Woodstock — to the Mountaintop is a true honor for the region, and highlights yet again the cultural heritage that the Hudson Valley and Catskill Mountains has with the music industry.
Also on the bill will be NYC-based singer/songwriter Greg Dayton, plus the Mountaintop's own Greene Room Show Choir, so the evening will be a full one with great entertainment and memory-creating music.