Post by maddogfagin on Dec 14, 2019 7:47:24 GMT
www.wpr.org/writer-why-jethro-tull%E2%80%99s-thick-brick-most-monumental-concept-album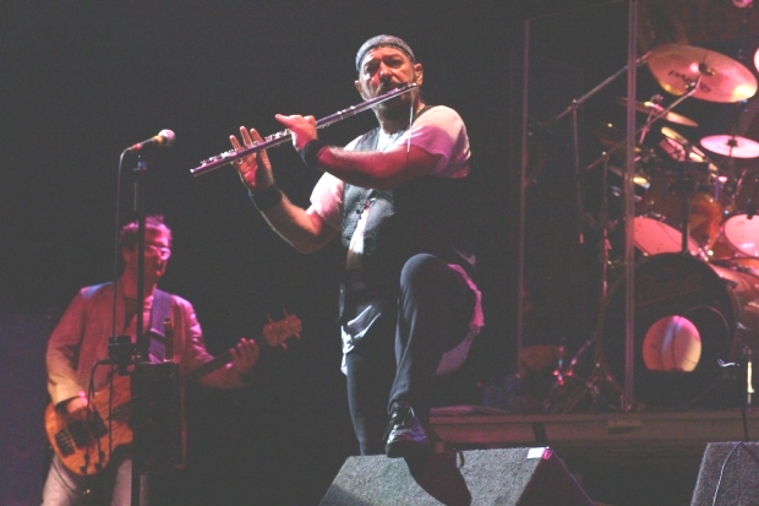 Ian Anderson of Jethro Tull at the 2004 Cropredy Festival. Brian Marks (CC BY)
Writer On Why Jethro Tull's 'Thick As A Brick' Is The Most Monumental Concept Album
Seth Kaufman Doesn't Usually Listen To Concept Albums But When He Does, He Prefers This One
By Doug Gordon
Air Date: Saturday, December 14, 2019, 11:00am
Fire up your Bunsen burners and break out those test tubes because we're about to embark on another rock 'n' roll thought experiment. Seth Kaufman, author of "Metaphysical Graffiti: Rock 'n' Roll and the Meaning of Life," joins WPR's "BETA" to investigate the concept album.
"The audacity of doing a long-form musical suite which shouldn't be that revolutionary but in fact it was," Kaufman said. "Nobody had really done it. You had Broadway musicals, you had song cycles. But nobody in the rock world and in the pop music world ever really did something that sort of had a novelistic approach."
"(The Beatles') 'Sergeant Pepper' is considered by many to be a concept album. But the concept is very weak compared to what it later became, compared to (The Who's) 'Tommy,' he added.
Kaufman says he's not a big fan of concept albums because so many concept albums are made by progressive rock bands and he's not a fan of "prog rock." But there is one exception. The one progressive rock album he does love is Jethro Tull's 1972 album, "Thick as a Brick," which just so happens to be a concept album.
In his book, Kaufman makes the case that the album is "so good that it breaks the prog-rock cycle and even transcends the overuse of the flute," which may well be his least favorite rock 'n' roll instrument. That's a pretty audacious statement which is only fitting, given the subject of this story.
"(Pink Floyd's) 'Dark Side of the Moon' is interesting, (Pink Floyd's) 'The Wall' is great. The Genesis 'Lamb Lies Down (on Broadway),' There have been some very interesting, theatrical pieces. But to me, what they almost all lack is a sense of humor," Kaufman said.
So why does Kaufman think "Thick as a Brick" is such a great album?
"Let's start with the fact is that prior to making 'Thick as a Brick,' Ian Anderson, the leader of Jethro Tull, they made an album called 'Aqualung.' And many people interpreted this as a concept album. Ian Anderson said, 'No, that wasn't a concept album.' And apparently, the story goes that he said, 'I'll show you what a concept album is.'"
"So then he designs an album that begins with the cover art," Kaufman explained. It's called 'Thick as a Brick' and on the cover is a fake news story about a poem written by an 8-year-old. And it's an epic poem and it had won a prize from the Society for Literary Advancement and Gestation, SLAG is the acronym. But it was rescinded after a panel of psychologists determined the poet was unbalanced. And that the poem revealed an extremely troublesome attitude toward life, his God and country. So the lyrics are the poem that this 8-year-old supposedly wrote."
"I may be going out on a limb here, I may be completely wrong but I choose to read this lyric in a way also as something of a jab at music critics and wise men and critics in general," he continued. "Because the chorus is, 'And you wise men don't know how it feels to be thick as a brick.' And in this case, thick means 'stupid.' And I kind of feel like he's saying that maybe some of you guys out there think you're smarter than you are."
Kaufman also points to the act that "Thick as a Brick" is one continuous song.
"In terms of concept records, this is monumental. This out-progs everybody. Right? It's a suite, it rocks, it's a very inventive body of work. The lyrics go from hard rock to lilting, almost Middle Age folk," he said. "It's kind of a wonderful album. And it's a very audacious thing because also, it's not going to get played on the radio. There was a single that was released that kind of condensed things. But I don't ever recall hearing it on the radio."
"And it's definitely pompous. To do what they did takes a lot of audacity, a lot of moxie, to say, 'Hey, we're going to do an album that you can't play on the radio.' You can't even drop the needle and pick it and put it on your favorite parts or your favorite songs," he said.