Post by JTull 007 on Oct 31, 2021 21:49:43 GMT
Message from Ian Anderson for the Gavà Hall of Fame on November 20, 2021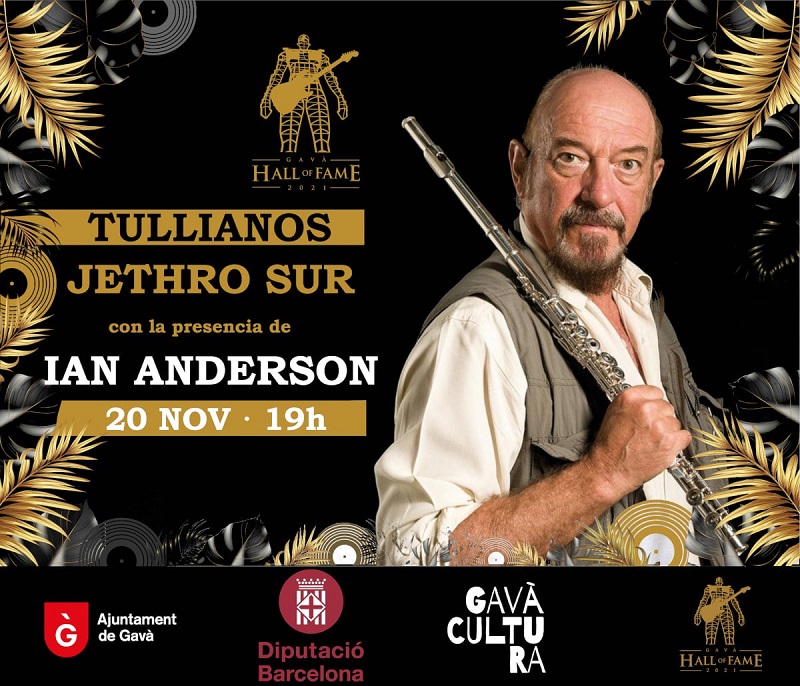 From Albert Villanueva TULLIANOS: Asociación de Seguidores de Jethro Tull
Hello, Tullianos
All set for November 20th. And we have news of the greats...
As you know, Gav à Town Hall included us in the Hall of Fame,
the festival of group versions that has been here for a couple of years.
We will feature the performance of our Sevillian friends from Jethro Sur.
But now comes the news... A week and a half ago I wrote to Anderson
to ask for giveaway material. Here was his response:
"Will make arrangements for some raffle items to be sent.
There's a slight chance I could go to Gava's theater and present the draw prizes myself
and sign some autographs. NOT to perform as I have to have an official Spain work visa
to do so and will not receive it until the end of December. I would only come as a tourist.
No promises as I have other commitments back in the day but I might come on Saturday
to be there in the afternoon The best thing is that you don't say any of this to others
because I don't want you to be disappointed if I can't do it."
At the end of last week he confirmed it to me:
"I was able to save the date for your convention and booked my flight.
I'll take with me maybe 20 signed shirts, CD's, photos and a few other raffle stuff.
Due to post Brexit work visa requirements in Spain, I can't act, so don't ask me!"
So ANDERSON WILL BE IN GAV7.

Spectacular!

Brutal!

Unthinkable!

It took a lot to shut me up, but, until I have met with City Hall and we haven't held
the Board meeting to square everything up, I couldn't say anything...
Now, once we can start advertising it, I would like you to You will be proud of our Association.
If when we started with her, we had been told that Anderson would have given us
the consideration she offers us time to this part, we wouldn't have believed it.
As he says, he won't be able to touch on the visa issue.
In fact, today was suspended the concert he had to play in Sevilla on December 16th...
But his presence on stage giving away the draw prizes is a blast.
Let me tell you other things:
- The meeting is to be a good place in the Maragall Space (Passeig de Joan Maragall, 11-Gav à)
- The capacity is 534 numbered seats (100 % capacity)
- The schedule will be from 19 to 22 h
- Door opener will be at 18 h.
- Being a theater and enclosed space, City Council forces to put entry.
We put minimum price: £ 7 at box office (£ 5 with pre-order).
100 % of the proceeds, City Council gives it to our Association.
- Midway through the week I will send you tickets purchase website link.
Now we need to decide one thing: do we make brotherhood food?
20-N is just around the corner and there's little time to organize.
That's why I ask you to tell me who would be willing to come to food.
Depends on the quorum, we would try to organize it.
Nothing else... That is not little...
I take advantage to claim annual fee payment to those who haven't paid it yet.
Remember that you can pay the € 30 in several ways:
OpenBank account transfer n. ES57- 0073-0100-5305-0514-8983
Payment via PayPal (request me and I will send you to your email account payment requirement).
In a few days I send link for tickets.

Tell me about the food.