Post by onewhiteduck on Sept 17, 2015 9:29:02 GMT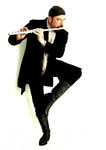 'As a big fan since 1970 with around 150 Tull/ Anderson shows under my belt in locations across the UK and Europe, running a Tull tribute band, a rare but occasional writer for A NEW DAY, and a dipping bank balance reflecting my insistence on extending my Tull collection over a 45 year period, I would just like to share a few personal thoughts about last nights concert at The Lowry Theatre in Salford...A concert I had not originally thought I would attend. As it turned out so so glad I did though we were indebted to my merchandising friend Tom Lynch and his assistant ending up with front row middle stalls - a great swop for the back of the circle seats we had originally purchased a couple of months ago.
In talking about Jethro Tull The Rock Opera , I suspect that there are those reading this piece who will dismiss the tour completely for several reasons. I am aware of the ill feeling in some fan quarters regarding the omission of certain musicians especially Martin Barre. I too feel very sad that Martin and Doane Perry are not part of Ian's current thinking. However let us be thankful that Ian Anderson has rediscovered his amazing creativity and shows no sign of slowing down yet even if it is on his terms. I think he deserves huge respect for his musical prowess both on and off the field of play. What will be will be. Accept and enjoy what is on offer in 2015 which is considerable both from Ian and Martin albeit on different stages. Both of our heroes still pack a powerful punch and neither deserves to be dismissed.
And so to the concert itself with Ian joined by recent band members Florian Opale, Scott Hammond, John O'Hara and new boy Greig Robertson. Interactive links also gave us David Goodier, Ryan O'Donnell and Unnur Birna Bjornsdottir . The gig lasted two hours plus and in truth I thought it was simply BRILLIANT...absolutely loved it from start to finish The sound, lighting and film projection stuff was all terrific. The concept was very clever and thought out and the interactive stuff especially the contributions made by Unnur and Ryan did not detract at all. The band rocked as tight as any line up I have seen from Jethro Tull over the last few years. So you folks out there still living in 1971, get a grip. Ian Anderson is a genius like him or loathe him. Stop moaning about his voice. He recognises his weaknesses and is willing to go out on a limb and bring something to the masses that is thought provoking, creative, innovative, fun and at times rocks to the limits. I'm giving the gig 5 ***** because this was definitely the strongest show I have seen from Ian in several years . I will now check out seeing the show somewhere in Europe - well you know it makes sense. My message to Jethro Tull fans everywhere is this...Go and see Jethro Tull The Rock Opera. 'Its all ok its all official'
Some photos from the second set were taken by my daughter Jess who also did a couple of vids as well. Couple of extra pics taken with long time Tull fan and mate Elwyn Davies as well as Tom Lynch Mr. Swag man. My daughter Jess is no Martin Webb but she did her best and the photos she took turned out quite well. Check them out on the Cold Flame face book page @
www.facebook.com/coldflameuk
Be seeing you...Patrick Sept 15 2015
Well said Patrick. I fully agree with your views and comments, just wish I could have put it so expressively. (is that a real word).
Cheers
Be seeing you.
Andrew(OWD)