Post by tullist on Apr 1, 2010 21:13:23 GMT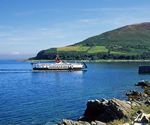 But I want to stand up (pun not intended) for Divinities. Not a proper comparison as it's such a different project but I think there are some nicely developed themes. No idea who John Tesh is (and sounds like I don't want to - right?) but here's a thought about In Defence of Faith. This idea may have been put in my head by the title, but it seems to me a very English piece of music. I think its the organ, but it evokes for me quiet English country churches with that musty feel of history to them. I'm sure I've seen somewhere Ian talking about being laid to rest in a Wiltshire churchyard. The Defence of Faith bit of course evokes Henry VIII as 'Defender of the Faith' and the Anglican settlement. What I like about this is that I recall what I think was a Rolling Stone review asking why in My God Ian has a pop at the 'bloody Church of England in chains of history'. It often seemed such a soft target (and the Isle of Wight version seemed to indicate he had other targets in mind) and certainly not the Presbyterianism of his youth. It's one of those lines that makes you think Tull are a quintessentially English band - which, of course, is not strictly true. But perhaps this is Ian making a form of musical peace with an old enemy - laying the Anglicanism of Blackpool Grammar School to rest?!
Or perhaps this is me making far too much of one song title! I like Divinities, though, but wouldn't compare it with the others, especially as I understand that Andy Giddings had a good deal of input.
Almost doubtlessly remembered from David Rees magazine at the time of Divinities release, In Defence of Faiths, alongside the opener, In a Stone Circle and the closer, can't remember but Indian elements in there, are my favorite tracks on the record, the title comes from a direct quote from a speech from Prince Charles, a good one, where he was expounding upon precisely that, the sanctity of all faiths, I am pretty sure it is one of his more well know and kindly regarded speeches. Also I recall the Prince was or is, if not a friend of Ians, friendly enough with him that for some years he would purchase Ians Strathaird salmon for his staff at Christmas, probably also remembered from David Rees' magazine, its not as if much in the way of Tull information was available anywhere else except possibly their tour manuals which prior to the net I would always purchase.
Btw maddog, very cool beatnik joke.