Post by JTull 007 on May 16, 2013 13:48:02 GMT
I don't know if this is in the right thread section,
but here is "Classical Gas"
Dedicated to some unusual Pop music that reached
beyond the normal limits of musical integrity.

Also dedicated to this wonderful story from Tullist.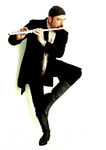 Makes whatever those glazed donuts are in the south, (briefly introduced
in a massive public offering to the entire United States...to disastrous returns,
lol, including my Mom, a southern girl who probably jumped in the first day
that stock was offered...never to see such heights again, lol)look like high cuisine.
(Man I just had to look up how to spell cuisine, this was not happening even like one year ago)
Which leads me to tell the tale of a wonderful and obese ex boss.
To paint a picture of this fairly cultured dude is necessary first, would sometimes
have a copy of bon appetit magazine with him, along with early computer mags,
and a very healthy and well rounded musical perspective.
This was on the trading floor of the
Chicago Board Options Exchange
along about 1981.
Steve, is his name, would arrive each day, (even given these advanced tastes) with one
Little Debbie Cake and one bag of....damn, now I forgot the name of what the rancid little things were,
o yeah, corn nuts,
and, to complete the picture, both because of his nature, and because of the occasionally
very tense nature of the job each of his cuticles were bitten blood red, truly a horrible sight,
and he had long fingernails, as a classical guitarist might.
And the first sight of most days would be those fingers slipping into either
of these culinary delights while he fielded the days first call.
Anyway, not normally to bothered by humans farting, pretty much everyone does,
but Steve's were of a welcome to my intestines variety, truly, in every sense of the word....ghastly.
And ghastly like an English person pronounces it...how is that...gahst lee.
Beyond the pale. And in an environment where you simply are not allowed such intrusions,
trading floors being sort of the master class of boys high school locker rooms.
And to make it worse Steve embarrassed REAL easily, stone red face in seconds.
I remember a pretty good guy who worked behind us, but a regular dude,
know what I mean had the following response to one of these horrid gaseous emissions
fueled by Little Debbie cakes/Corn Nuts, coupled with maybe 100 people in the general area
suddenly you hear this guy behind us, Sam is his name bellow,
"Jesus Christ, will you go to the damn hospital!"
Part of me hated to join in on the laughing, absolutely humiliating for Steve,
but for all the funny things I saw on the trading floor, and there were alot,
that one clearly stays in my mind 32 years later, hope it transmitted clearly here, probably had to be there.
Anyway...to that Sweet Little Debbie and her glycerin coated chocalate cakes,
or whatever it is that makes them shiny and edible for 14 years.