Post by Deleted on Oct 19, 2015 17:16:57 GMT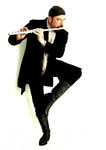 Read More: Martin Barre Talks About Jethro Tull Memories, New Music and More: Exclusive
It's interesting – ever since the end of Jethro Tull, you've been especially prolific with your solo career. Do you feel more freed up in a way to pursue another side of your musical personality?

I don't feel freed up. I didn't leave Jethro Tull because Jethro Tull finished. It's important that people realize there will never be a Jethro Tull again. There will be two solo bands: the Ian Anderson Band and the Martin Barre Band, and long may they exist, and long may they enjoy play music. I'm not being pedantic. I always hate to hear, "Oh, you've left Jethro Tull." I haven't really. Ian wanted to finish Jethro Tull, wanted to stop the band completely. I've had 43 years of fantastic memories, and I've loved working with all the musicians within the Jethro Tull family. So for me it was a big personal shock to finish, and luckily I've done solo albums, a few fun tours as a parallel to the Jethro Tull thing. So I had a leg up, but essentially the floor was pulled from underneath me, and I had a month to reorganize my life and start from the beginning again. I am free, but I wasn't looking for freedom. I already had it. It's important that people know I was always musically happy because I was able to do a solo album every three or four years when I had the time. I was able to get a little band and take them on the road. I've always had that option, and it was always really important to me because it enabled me to play the music Jethro Tull didn't have within the band. It was always great to have it, and obviously it's sort of musically natural to continue as a solo artist. But it was very difficult on a business footing, an emotional footing, and a practical footing. I've had four years, and I had two very difficult years and two very good years. I'm beginning to establish some sort of band reputation, and I love it because it's me – my neck's on the line, for better or worse. But I quite like that. I really like being put in the deep end. I've had a lot to do, but I thrive on it. Musically, it's been a fantastic thing for me to say, "Right, come on. You write music, don't you? You've written some songs? Okay then. Get back in the studio and show people what you've got."

There's a lot of gossip that goes on, and that doesn't do anybody any good. I'm a very happy person, and I believe Ian is a very happy person too. The end result is very good, but it has been very tricky. It's important to me because Jethro Tull, as an entity, doesn't exist. The work that was done by all these people – me, Dave Pegg, David Palmer, John Evan, Barrie Barlow, Eddie Jobson – all their work is really written in stone, and they were part of Jethro Tull. And now there is not a Jethro Tull. Maybe there will be in five or 10 years, but probably not. It doesn't exist in its pure form – in my mind, in any form. I'm not Jethro Tull. I'm playing 40 percent Tull tracks, but I'm not Jethro Tull at all. I'm Martin Barre.

Even thought it's horribly sad that Jethro Tull doesn't exist, the silver lining is that now there are these two entities touring and bringing more of the catalog to more people.

Yeah, I think that's the case. And I haven't necessarily played the music exactly how it was, so I can't be accused of being a lesser version of Jethro Tull – or Jethro Tull without the flute player. So I've been very careful to change it a little bit in a respectful way but put my stamp on it. But it's sad because I see bands like Fleetwood Mac and the Eagles and Toto out there having very successful tours. They're very special bands, and they're enjoying a resurgence of interest from that era. But unfortunately we're not part of that.



A very interesting and honest interview. Thanks for posting TT.

That's Irish TT to you...